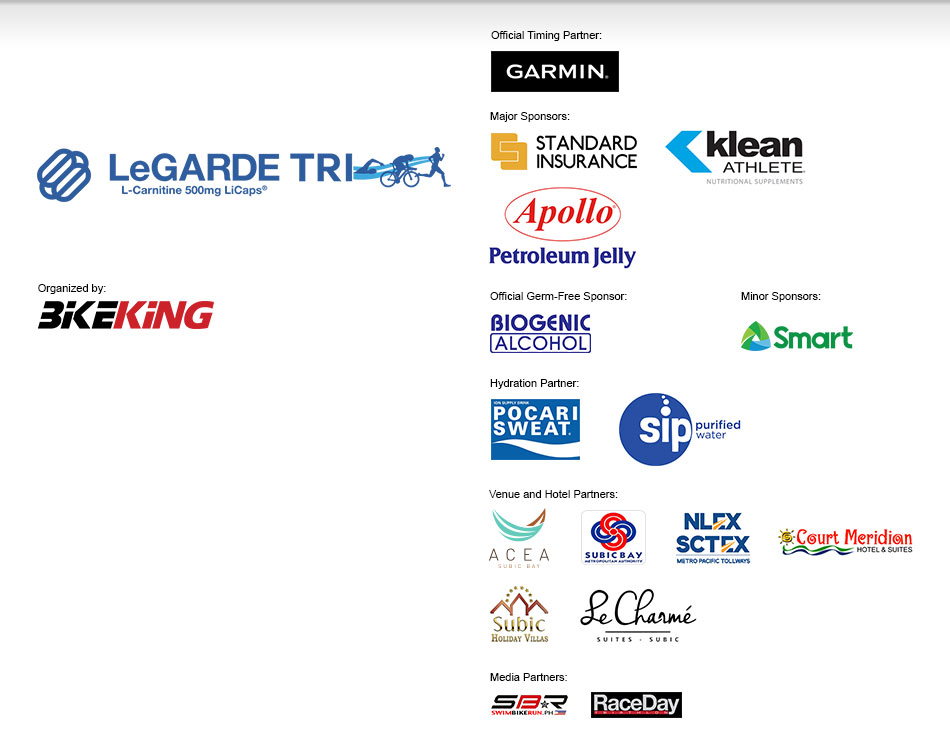 EVENT DETAILS
JULY 1, 2018 Subic Bay
DISTANCE
2Km Swim / 60Km Bike / 15Km Run
RACE CATEGORIES
Male Age Group (18-24, 25-29, 30-34, 35-39, 40-44, 45-49, 50-54, 55-59, 60-above)
Female Age Group (18-24, 25-29, 30-34, 35-39, 40-44, 45-49, 50-above)
Team Competition
Bike King TRI 2 – Individual
Early Bird
Nov30 to Feb28, 2018
Regular reg
Mar1 to Apr30, 2018
Late reg
May1 to Jun5, 2018
Registration fee
Online processing fee
Total Reg Fee
4,500.00
              225.00
4,725.00
5,000.00
           250.00
5,250.00
5,500.00
           275.00
5,775.00
Bike King TRI 2 – Relay
Early Bird
Nov30 to Feb28, 2018
Regular reg
Mar1 to Apr30, 2018
Late reg
May1 to Jun5, 2018
Registration fee
Online processing fee
Total Reg Fee
7,500.00
              375.00
7,875.00
8,500.00
           425.00
8,925.00
9,500.00
           475.00
9,975.00
Bike King TRI 1 and 2 bundle - Individual only
Early Bird
Nov30 to Dec 15, 2017
Registration fee
Online processing fee
Total Reg Fee
8,500.00
              425.00
8,925.00
In-store Registration will open on: DECEMBER 8, 2017
TREK BICYCLE STORE MANILA
Two Parkade, 30th Street
Bonifacio Global City, Taguig
Metro Manila
T: +63 2 816 0933
E: sales@trekbikes.ph
Contact: Ivy Macanig / Jeff Rañon
SPECIALIZED CONCEPT STORE QC
11 Congressional Ave., Extension, Brgy. Pasong Tamo, Quezon City
Store hours: Monday-Sunday 10am to 8pm; Sunday 10am to 6pm
T: (02) 282- 7468
Contact: Ivan Ricardo/ Dave
CYCLES AND BREW
E. Jacinto st., Clark Freeport Zone, Pampanga, Clark
T: 0943-703-0667
Contact: Jumbo Tayag
MULTISPORT HUB NUVALI
GFS1 Bldg. F Solenad 3 Nuvali, Santa Rosa, Laguna 4026
Store hours: Monday-Friday 11am to 9pm; Saturday-Sunday 9am to 9pm
T: (049) 258- 0824; 0943-705-3377
Contact: Arlene Roque or Karen Romero
CYCLING ZONE ALABANG
Shell Pacific Gas station, Alabang Zapote Road.;
Alabang Muntinlupa City
Store hours: Monday-Sunday 9am to 6pm
Contact: Arlene
TEAM DISCOUNT:
12 +1 team discount will be available from Nov30 to December 31, 2017. For queries on how to avail, email registration@bikekingphilippines.com
REGISTRATION REMINDERS
Deadline for registration is May 31, 2018 or until slots last.
Registration is non-transferable. Your registration payment and race bib cannot be transferred or sold to any other individual. Both athletes caught competing under someone else's registration / or allowing the use of his/her race bib will be banned from joining Bike King races for a minimum period of two (2) years, at the sole discretion of Bike King.
Relay teams may change their relay team members once, for a nominal fee of P1,000.  Deadline to change members including shirt size is on May. 31, 2018. Between June 1 to June 24, 2018 you may still change your member once, for the same amount, but the shirt size will no longer be changed.
If you are unable to participate, you will not receive a refund for your race entry fee, but you may claim your race giveaways.
Refund Policy:

Athletes confirmed in the race who wish to withdraw, must do so in writing via , email to: registration@bikekingphilippines.com
It is the athlete's responsibility to ensure that Bike King organizers have received any communication you send.
If you do not receive a response from the race office within five (5) calendar days from your email request, it should be assumed that your request has not been received. Contact us again by sending another email to: registration@bikekingphilippines.com.
Upon confirmation of this request, athletes are eligible for a partial refund as follows:

Any requests received on or before January 31, 2018 will be eligible for an 80% refund.
Any requests received after February 1 but on or before April 30, 2018 will be eligible for a 50% refund.
Any requests received after May 1, 2018 will not be eligible for a refund under any circumstances.
RACE INCLUSIONS
Event Shirt
Swim Cap
Timing Chip
Race Bib
Bike & Helmet sticker
Finisher's Medal
Post-Race Meal