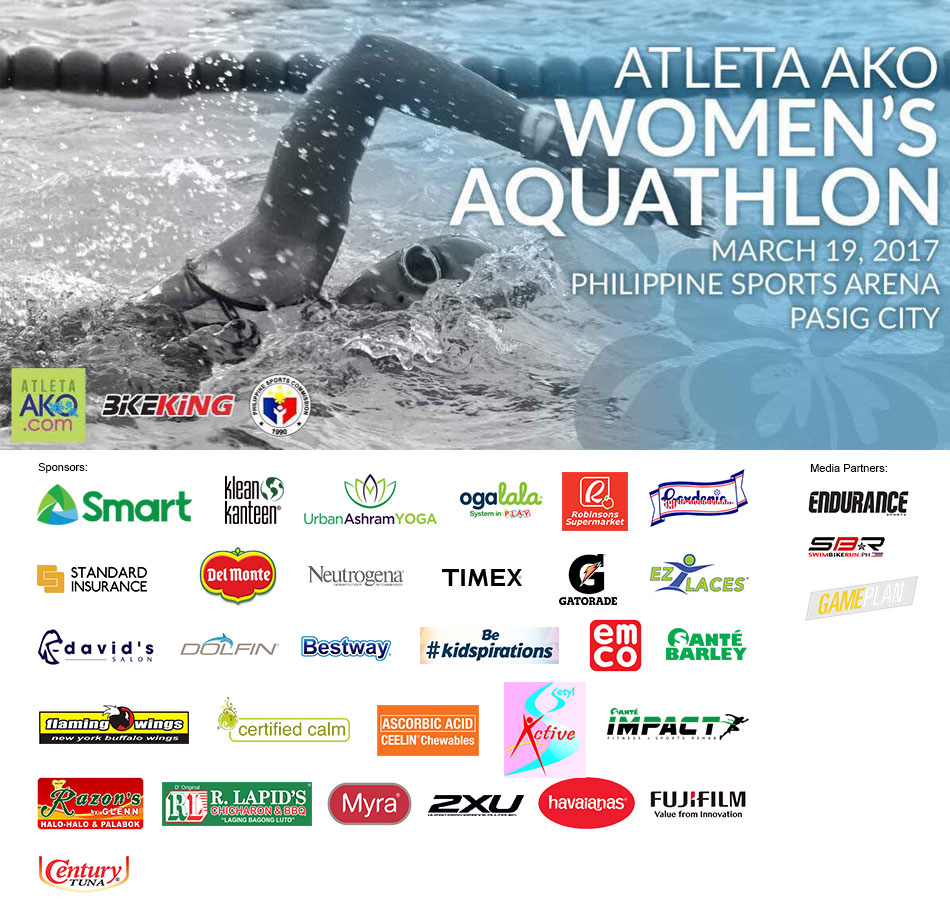 EVENT DETAILS
MARCH 19, 2017, Sunday
Philsports Complex, Pasig City

DISTANCE
• Female 7-8
50 Meter Swim,  600 Meter Run
• Female 9-10
100 Meter Swim, 600 Meter Run
• Female 11-12
200 Meter Swim, 1.8 Km Run
• Female 13-14
300 Meter Swim, 2.2 Km Run
• Female 15-17
400 Meter Swim, 4.2 Km Run
• Female 18 & Above
Standard: 500m Swim - 5km Run
Petite: 300m Swim - 3km Run
Relay: 500m Swim - 5km Run
Swim: 10 years old minimum
Run: 15 years old minimum
SCHEDULE OF ACTIVITIES
Sunday, March 19, 2017
PhilSports Arena (ULTRA), Pasig City
TIME
DESCRIPTION
VENUE
5:30 AM - 8:30 AM
Pick up of Race Kit
Personal Appearance and a Valid ID is Required
Track Oval
5:30 AM - 8:30 AM
Check in of Race Equipment
Transition Area
6:00 AM - 11:00 AM
Race Expo
Track Oval Grandstand
6:30 AM onwards
Race Briefing: right before your wave start
Swimming Pool Area
7:00 AM
Start of Race (5 per release, 1 min apart)
Swimming Pool
10:00 AM
Awarding
Track Oval/football field
ENTRY FEE

INDIVIDUAL
Early Bird
Dec. 22, 2016 to
Jan. 15, 2017
Regular
Jan. 16 to Feb. 19, 2017
or until slots last
Registration Fee
Online processing fee
Total Amount
2,000.00
              100.00
2,100.00
2,500.00
           125.00
2,625.00
RELAY
Early Bird
Dec. 22, 2016 to
Jan. 15, 2017
Regular
Jan. 16 to Feb. 19, 2017
or until slots last
Registration Fee
Online processing fee
Total Amount
3,500.00
              175.00
3,675.00
4,500.00
           225.00
4,725.00
REGISTRATION REMINDERS
Deadline for registration is February 19, 2017 or until slots last
Registration fees are non-transferable. Your race bib cannot be transferred or sold to any other individual. Both athletes caught competing under someone else's registration / or allowing the use of his/her race bib will be banned from joining any Bike King races for a minimum period of two (2) years, at the sole discretion of Bike King.
If you are unable to participate, you will not receive a refund for your race entry fee, but you may claim your race give aways.
Refund Policy:

It is the athlete's responsibility to ensure the race office has received any communication. Upon confirmation of this request, athletes are eligible for a partial refund as follows:

Any requests received on or before December 31, 2016 will be eligible for an 80% refund.
Any requests received on or before January 15, 2017 will be eligible for a 50% refund.
Any requests received after January 16, 2017 will not be eligible for a refund under any circumstances

If you do not receive a response from the race office within 5 calendar days from request, it should be assumed that it has not been received and you should contact us again by sending another email to registration@bikekingphilippines.com.
RACE CATEGORIES
GIRL'S RACE

Female 7-8
Female 9-10
Female 11-12
Female 13-14
Female 15-17

STANDARD DISTANCE

Female 18-24
Female 25-29
Female 30-34
Female 35-39
Female 40-44
Female 45-49
Female 50 and over

PETITE DISTANCE

Female 18-29
Female 30-39
Female 40-49
Female 50 and over

RELAY OPEN
AWARD/ PRIZES
Top 3 per Category will receive MEDALS and GIFTPACKS.
Bike King Series Points:
Points will be awarded to the top 20 finishers (Standard distance only) per age group of the AtletaAko Women's Aquathlon event.
Rank
Points
Rank
Points
1st
20
11th
3
2nd
15
12th
3
3rd
12
13th
3
4th
10
14th
3
5th
9
15th
3
6th
8
16th
2
7th
7
17th
2
8th
6
18th
2
9th
5
19th
2
10th
4
20th
2
RACE INCLUSIONS
Event Shirt
Swim Cap
Timing Chip
Race Bib
Finisher's Medal
Post Race Meal