EVENT DETAILS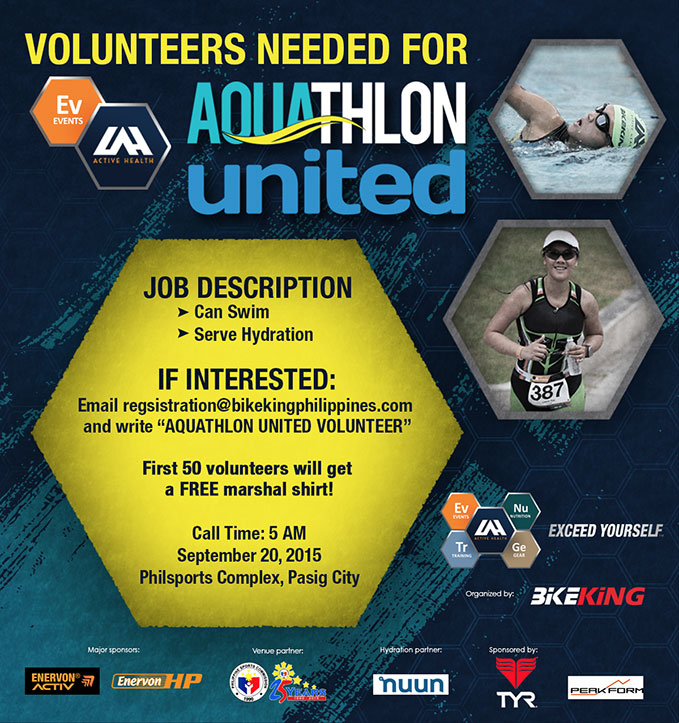 SCHEDULE OF ACTIVITIES: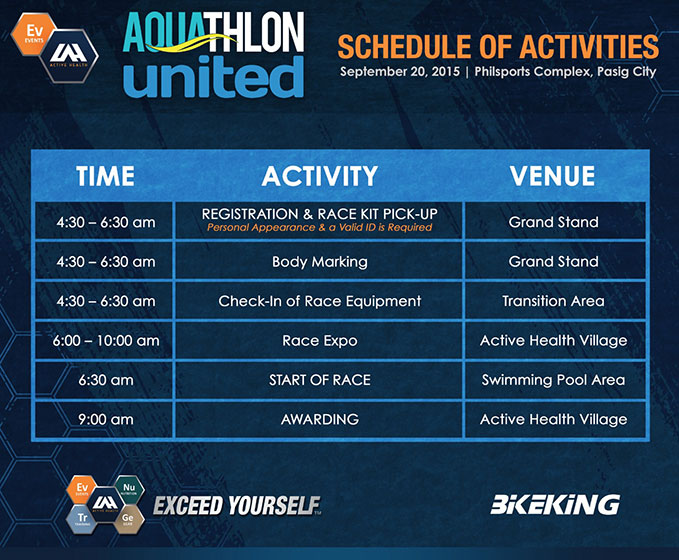 DATE: SEPTEMBER 20, 2015, SUNDAY
VENUE: PHILSPORTS COMPLEX, PASIG CITY
A continuous two-stage race comprised of a 500m swim followed by a 5km run which will be held at the Philsports Complex Pasig City (formerly ULTRA) perfect for both beginning multisport and progressive athletes.
RACE DISTANCES:
Individual: 500M SWIM / 5KM RUN
Relay: 500M SWIM / 5KM RUN
ENTRY FEES:
AQUATHLON UNITED
Distance: 500m Swim/ 5Km Run
Early Registration
Aug 1 - 15
Regular Registration
Aug 16 - 31
Late Registration
Sept 1 - 6
Sprint Individual
Online processing fee
Total registration fees
            1,500.00
              75.00
1,575.00
       2,000.00
              100.00
2,100.00
           2,500.00
              125.00
2,625.00
Relay (Mix/ Doubles)
Online processing fee
Total registration fees
   2,500.00
             125.00
2,625.00
3,000.00
              150.00
3,150.00
3,500.00
              175.00
3,675.00
REMINDERS:
Deadline for registration is September 6, 2015 or until slots last
Deadline of registration subject to change depending on slot availability
Registration fees are non-transferable
Refund Policy:

Athletes confirmed in the race who wish to withdraw, must do so in writing to the race office, email: registration@bikekingphilippines.com
It is the athlete's responsibility to ensure the race office has received any communication. Upon confirmation of this request, athletes are eligible for a partial refund as follows:

Any requests received on or before August 31, 2015 will be eligible for a 50% refund.
Any requests received after August 31, 2015 will not be eligible for a refund under any circumstances, but you will be able to claim your race kit on race through (you may authorize someone to get it).

If you do not receive a response from the race office within 5 calendar days from request, it should be assumed that it has not been received and you should contact us again by sending another email to registration@bikekingphilippines.com.
RACE CATEGORIES
Aqua Solo

Male Age Group (Elite, 15-17, 18-24, 25-29, 30-34, 35-39, 40-44, 45-49, 50-54, 55-Above)
Female Age Group (Elite, 15-17, 18-24, 25-29, 30-34, 35-39, 40-44, 45-Above)

Aqua Duo for 18 years old and above
AWARDS / PRIZES
All Top 3 Aqua Solo winners and Aqua Duo will receive MEDALS and GIFTPACKS
RACE INCLUSIONS
Swimming Cap/ Timing Chip
Event Shirt/ Race Belt/ Finisher's Medal
Unilab Active Health Token/ Post Race Meal