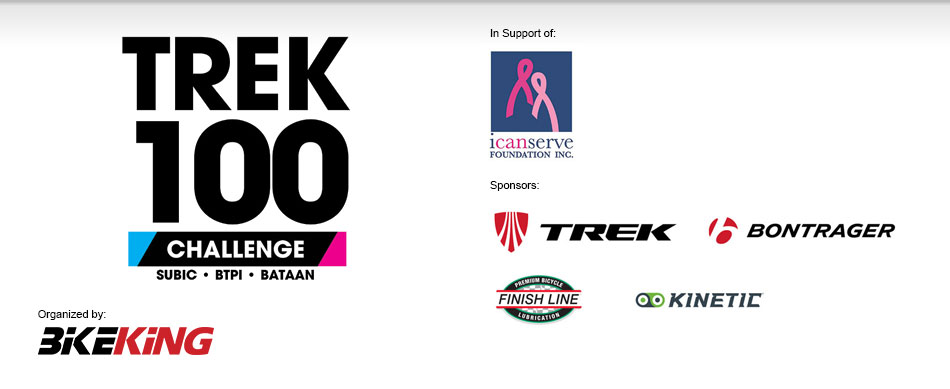 EVENT DETAILS
DATE: October 22, 2017, Sunday
VENUE: Maritan Road, Subic Bay
RACE DISTANCE: 100 km
100km solo
100km team of 2
100km team of 4
ENTRY FEE
Early Bird
Aug17 - Sept10
Regular reg
Sept11 - Oct6
Individual
Online reg fee
Total Reg Fee
2,500.00
              125.00
2,625.00
3,000.00
           150.00
3,150.00
2-person
Online reg fee
Total Reg Fee
4,000.00
              200.00
4,200.00
5,000.00
           250.00
5,250.00
4-man
Online reg fee
Total Reg Fee
8,000.00
              400.00
8,400.00
10,000.00
              500.00
10,500.00
In-store payment/registration partners:

IN-STORE REG OPENS AUGUST 25, 2017
TREK BICYCLE STORE MANILA
Two Parkade, 30th Street
Bonifacio Global City, Taguig
Metro Manila
T: +63 2 816 0933
E: sales@trekbikes.ph
Contact: Ivy Macanig / Jeff Rañon

ALL TERRA CYCLERY
CW Home Depot, Julia Vargas Avenue
Ugong District 1, Pasig City
Metro Manila
T: +63 2 909 7264
E: edmund@allterracyclery.com
Contact: Edmund Mangaser

BIKE SOUTH WAREHOUSE
4 Ramirez Street, Cataquiz
San Pedro, Laguna
T: +63 920 962 1800
E: teambikesouth@yahoo.com.ph
Contact: Aris Obien

EXPLORE BIKE SHOP
18BC Legarda Road,
Baguio City
T: +63 917 506 7708
E: yannap1105@yahoo.com
Contact: Paulynne Balajadia

GRAN TRAIL CYCLES MOLITO
El Molito Commercial Complex,
Alabang-Zapote Road
Alabang, Muntinlupa City
T: +632 856 4488
E: chrisb@grantrailcycles.com
Contact: Chris Berenguer


GRAN TRAIL CYCLES MAKATI
830 Antonio Arnaiz Ave
Makati City
T: +63917 553 5978
E: chrisb@grantrailcycles.com
Contact: Chris Berenguer

GRAN TRAIL CYCLES NUVALI
Unit 5 and 6 Building B Solenad 3,
Nuvali, Santa Rosa, Laguna
T: +49 258 0839
E: chrisb@grantrailcycles.com
Contact: Chris Berenguer

JOYRIDE BIKE SHOP
Unit 110 Fortune Square Building
McArthur Highway, Barangay Saguin
San Fernando, Pampanga
T: +63 998 867 6810
E: darwin.cano@yahoo.com
Contact: Darwin Cano

THE TRI TEMPLE
2135 Chino Roces Ave
Legazpi Village
Makati, Metro Manila
T: +632 8695766
E: rfloresca@gmail.com
Contact: Raoul Floresca

THE BRICK MULTISPORT STORE
Unit 1 Woodridge Apartments
Upper Mckinley Road, Mckinley Hill
Taguig, Metro Manila
T: +632 985 4890
E: thebrickmultisportstore@gmail.com
Contact: Leroy Enriquez
IN-STORE REG - SOON TO OPEN

SIGNATURE BRANDS SUBIC
Bldg. 156 Bonifacio St., Central Business District,
Subic Bay Freeport Zone, Olongapo City
T: +63 922 821 9916
E: ricosantiago16@gmail.com
Contact: Rico Santiago

SPECIALIZED CONCEPT STORE QC
19 Congressional Ave. Extension, QC,
Metro Manila
T: (02) 282 7468
Contact: Ivan Ricardo

SECONDWIND
2nd Flr., Ayala Malls the 30th
30 Meralco Ave., Pasig 1605
T: (02) 946 5029
Contact: Hector Yuzon

CYCLES AND BREW by Hubble
E. Jacinto st., Clark Freeport Zone,
Pampanga 2009
T: 0943-703-0667
Contact: Jumbo Tayag
REMINDERS:
Deadline for registration is on October 6 or until slots last.
Registration fees are non-transferable but may be cancelled with refund. Check refund policy.
Refund Policy:

Athletes confirmed in the race who wish to withdraw, must do so in writing to the race office.
Email: registration@bikekingphilippines.com

It is the athlete's responsibility to ensure the race office has received an email communication. Upon confirmation of this request, athletes are eligible for a partial refund as follows:
Any requests received on or before September 30, 2017 will be eligible for a refund of 50% of the registration fee.
There will be no refunds after September 30, 2017
If you do not receive a response from the race office within 5 days from request, it should be assumed that it has not been received and you should contact again by email.
SCHEDULE OF ACTIVITIES:
| | | | |
| --- | --- | --- | --- |
| October 21, 2017 | Registration |  10:00 am to 6pm |  Subic Holiday Villas |
| October 22, 2017 |  Registration |  4:00 to 5:30am | Maritan Road, Subic |
AWARD/ PRIZES:

Solo:
1st, 2nd & 3rd - Male
1st, 2nd & 3rd - Female
Team of 2:
Top 3:
1st, 2nd & 3rd - All Male
1st, 2nd & 3rd - All Female
1st, 2nd & 3rd - Mixed
Team of 4:
1st, 2nd & 3rd - All Male
1st, 2nd & 3rd - Mixed

CATEGORY:
100km solo
100km Team of 2
100km Team of 4
RACE INCLUSIONS:
Event shirt
Trek bottle
Timing chip (to be returned)